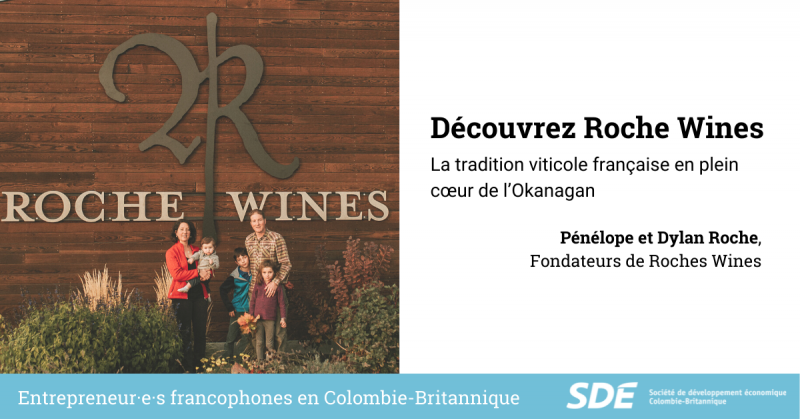 Roche Wines : The french wine tradition in the heart of the Okanagan
The terroir and the vines are above all a story of passion and conviction. Producing wine in the Okanagan is the challenge Pénélope and Dylan Roche have set for themselves. Dylan is originally from Vancouver and developed a passion for Burgundy wines during his life in France. He ran a tasting school in Bordeaux and obtained a diploma in wine estate management.
For Pénélope, the vine is above all a family affair since she grew up in a Bordeaux vineyard, passed down from generation to generation (6 to be accurate!) since the French Revolution. Arriving in the Okanagan Valley in May 2011, they proudly carry on the French wine tradition with their three young children.
They chose Penticton because of the wine potential, the ability to carve out their own path starting from zero, and the nearby French school for their children as well as the city's central location.
From 2012, Dylan and Pénélope started producing Chardonnay in the Okanagan. In 2014, they bought 6 acres of vineyards in Penticton. Their adventure as entrepreneurial wine growers continued when they opened their own vineyard in 2017. They do everything themselves with their team: from the vines' maintenance to the harvest and final tasting, not a step escapes them.
To the question: "What makes you different from other winegrowers?" Pénélope answers us: "Our origin, our French training (Pénélope studied 7 years of enology), and the fact that we made wine in other countries: in Australia, New Zealand, and Spain before we established in Canada. Our experience is multicultural but with a traditional French aspect. We are also proud to work hand in hand as a couple. We believe the combination of all these elements brings a unique signature to our wines."
Unfortunately, the COVID-19 health crisis has not spared their small business. "Sales had been climbing steadily since the opening and we were doing well but the hiatus hit us hard," Pénélope tells us. "At the moment it is difficult to find staff and move up the slope. However, sales picked up during summer. There was also a little positive in all that darkness. The crisis forced us to differentiate ourselves from the competition and rethink our system.
Now our tasting room is only open by appointment, which allows a more personalized approach, adapted to each client."
Their risk-taking has paid off for our pleasure. When you come to Roche Wines, you will have the opportunity to try different wines of unique finesse and bouquets. You can also order online. Pénélope recommends the Nuance 2018 with delicate floral, blackberry, and blackcurrant notes. Perfect for a good moment of conviviality with friends or family.