Talented immigrants will play an essential role in BC's sustained growth over the coming years. Is your business ready?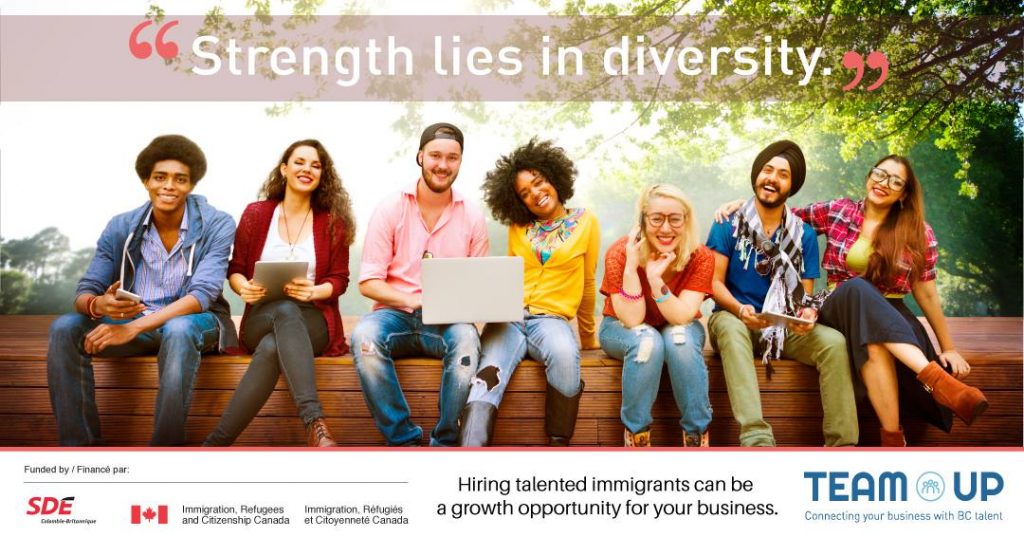 Did you know that….
> Half of recently established BC immigrants hold university certificates, diplomas or degrees while only a quarter of non-immigrants passes these qualifications.
> By 2035, 3 Vancouverites out of 4 will be an immigrant
The SDECB strives daily to provide a voice and tools to help the business community of British Columbia succeed and reach their growth goals, within an increasingly globalized and competitive economy.
According to recent studies, organizations' success and competitiveness highly depends upon their ability to embrace globalization and diversity, particularly in the workplace.
With the Team Up program, the SDECB, in collaboration with IRCC, aims to provide local businesses with all the insights, tools and advice they need to foster and manage a productive and diverse workforce, while minimizing the challenges and barriers.
The Team Up program guides businesses throughout the whole process of finding, hiring and retaining talented immigrants in a diverse and inclusive workplace:
– Assess and develop the cultural readiness of your workplace,
– Identify the talent pool and advertise your job opportunities,
– Set up a screening strategy and assess candidates' skills and experience,
– Help you create a culturally inclusive work environment and provide strategies for ongoing development.
We are here to help connect your business with talented individuals in BC!

Why diversity in the workplace matters
Two major demographic pressures affect the Canadian labour force today: the large number of baby boomers approaching retirement age, and the shortage of young people available to replace them. Employers from all sectors report challenges in recruiting staff they need in their organizations. According to the last PWC's annual global CEO survey, 45% of CEOs consider that the lack of skilled employees is a threat to their organization's growth.
That is why many Canadian employers are focused more than ever on attracting and retaining a diverse workforce. Especially as it has been proven that a diverse culture in the workplace benefits companies in countless ways, contributing to an organization's efficiency and creating a competitive advantage. Recent research from McKinsey reveals that ethnically diverse companies are shown to be 35% more likely to have financial returns above the national industry median.
Here are some of the benefits observed by companies with a high level of diversity and inclusion in their workforce:
Higher productivity and better performance: The wide range of experience, expertise, and working methods can boost problem-solving capacity and lead to greater productivity.
Increased innovation: Diversity of thoughts, fresh perspectives and different points of view have been shown to breed creativity and help meet customer needs in innovative ways.
Better understanding of global markets and customer needs: A diverse collection of skills, knowledge and experiences (e.g. languages, cultural understanding, local connections…) allows a company to provide a better customer service on a broader market, and boost its international development capacity.
Reduced employee turnover: Hiring from a more diverse talent pool makes a business attractive to other talented candidates, and helps to keep them on board.
A culturally diverse workforce should be considered as one of the greatest assets for your business. Recruiting and retaining a diverse, inclusive group of employees will make your team be better at developing fresh ideas that will meet the needs of your marketplace.

To learn more about and benefit from the SDECB's services towards the recruitment of skilled and diverse talents:
– Team Up Program
– Free recruitment event: Speed Jobing, November 23th, 2017
– Caroline Berger, Project Manager, Immigration and Employment Sector: cberger@sdecb.com