Inclusive workplaces are said to maximize innovation and productivity. Not convinced yet? Keep reading!
According to recent studies, organizations' success and competitiveness highly depend upon their ability to embrace globalization and diversity, particularly in the workplace.
Why diversity in the workplace matters
Many Canadian employers are focused more than ever on attracting and retaining a diverse workforce. It has been proven that a diverse culture in the workplace benefits companies in countless ways, contributing to an organization's efficiency and creating a competitive advantage.
Here are some of the benefits observed by companies with a high level of diversity and inclusion in their workforce:
Higher productivity and better performance: The wide range of experience, expertise, and working methods can boost problem-solving capacity and lead to greater productivity.
Greater innovation and creativity: Diversity of thoughts, fresh perspectives and different points of view have been shown to breed creativity and help meet customer needs in innovative ways.
A better understanding of global markets and customer needs: Diversifying allows companies to gain the ability to reach an expanded number of people in an expanded number of markets, and provide a better and more accurate customer service.
More skilled candidates: Removing bias can also ensure a company hires the best candidate for the job, the one it truly needs to succeed in a competitive market.
Less employee turnover: Hiring from a more diverse talent pool makes a business more attractive to other talented candidates and helps to keep them on board.
A culturally diverse workforce should be considered as one of the greatest assets for your business. Recruiting and retaining a diverse, inclusive group of employees will make your team be better at developing fresh ideas that will meet the needs of your marketplace.
Recruiting skilled and diverse talents: where to start?
The SDECB, in collaboration with IRCC and Service Canada, offers various services to guide businesses throughout the whole process of finding, hiring and retaining talented francophone candidates within an inclusive and multicultural workplace.
– Assessing and developing the cultural readiness of your workplace,
– Identifying the talent pool and advertising the job opportunities,
– Setting up a screening strategy and assessing candidates' skills and experience,
– Offering a wage subsidy if you recruit candidates eligible to our Career Focus program,
– Helping you create a culturally inclusive work environment and provide strategies for ongoing development.
To learn more about the SDECB's services for Employers:
– Team Up Program: Funded by IRCC, Team Up aims to connect local businesses with Francophone talents and support them throughout the whole recruiting process.
– Career Focus Program: Funded by Service Canada, Career Focus offers a wage subsidy to qualifying businesses that recruit candidates eligible to the program.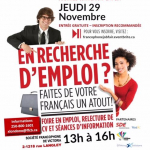 The SDECB is a partner of the next Francophone Job Fair, to be held in Victoria, on November, 29th. This event connects bilingual qualified job candidates with local businesses seeking to fill job offerings. Come and meet our team to learn more about our services and find your rare gem!
Contact Jessica Rogers, Project Manager, Immigration and Employment Sector: jrogers@sdecb.com